Reflecting back on our very first Beachbody cruise, I remember we could barely afford the plane tickets to get there. We went to Starbucks because that was what was the cheapest thing at the Atlantis. We did as much free stuff we could. I was still a newer coach, not earning much but had a vision and goal of where I wanted to be.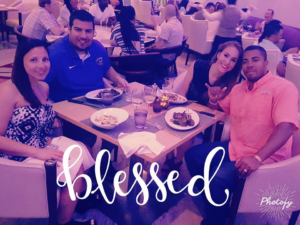 Before heading home on our most recent trip, finally headed home we made sure to spend our last dinner on the boat in a super secret squirrel VIP area. The food was great but the company was even more amazing.
This year we were able to enjoy private dinners, gifts for the kids in port, not having a care about what we did and cost was not a factor.
How freeing is that?! No more stress, bills paid off early, and both Morgan Anderson Alexis and I are currently building our dream homes! The hard work over 5 years has compounded to a future of FREEDOM!
Did it happen overnight?
Heck no!
"Team Beachbody® does not guarantee any level of success or income from the Team Beachbody Coach Opportunity. Each Coach's income depends on his or her own efforts, diligence, and skill. "
P.S. I am currently looking for those who would like to start their fitness journey! Click here to apply to join my next accountability group to reaching your fitness goals! http://bit.ly/1TrjBqW
Send me my FREE workouts!
By submitting your email, you will receive an email with instructions on setting up your free account and access to a week of free workouts! Once you have access to the workouts, you will be emailed the meal plan.